1 IN TELEPROMPTING
Corporate | Broadcast | Sports
Jeff Critelli, Owner / Operator
"Las Vegas' largest, most experienced and fully insured teleprompter company.
We are #1 in teleprompting in Las Vegas. Locally owned and fully insured for 20 years with a highly trained team of professional operators.
Corporate Events, Conventions, Politicals, Broadcast, Sports Entertainment, Satellite Truck Shoots, Live Events and Concert ready.
Jeff C. has over 20 years experience in every facet of production, specializing in teleprompting.
Experienced in editing, audio and camera, he knows how a show comes together having worked closely with Directors, TDs and Producers in every situation. A past instructor at UNLV in television production.
State-of-the-art Mac-based systems. We have all the gear you need for large or small, multiple and single operator events. Our professionally trained staff of experienced operators are available 24/7 and can travel with you.
We do it right the first time!
Supplying Telescripts Rental Systems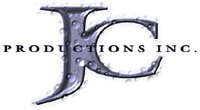 JC Productions, Inc.
Las Vegas, Nevada
Jeff Critelli 702-768-1660
Johnna Crowe  702-876-2775
© JC Productions 1999 - All Rights Reserved